Salus Thermostat Reviews of 2018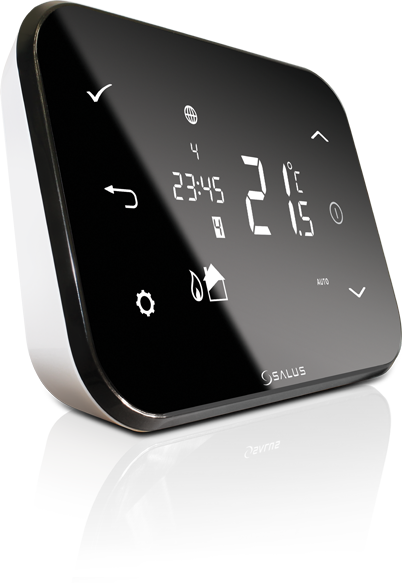 Salus Thermostat Reviews of 2018
A Salus thermostat can be found in many properties across the world as they are amongst the best selling central heating room stats in Europe and beyond. The brand name is owned by the global manufacturing group Computime, which is based in Hong Kong and widely distributed around the world including North America, United Kingdom and Europe. It's a well-known brand both among professional plumbers and DIY enthusiasts as they've got a reputation for cheap and efficient wireless thermostats.
Their products are famous for the ease of installation and cost-effectiveness. Check out our Salus thermostat reviews and you'll see that for the range of features offered, you can hardly find a range of products that offer better pricing. All mentioned Salus thermostats are available for sale on our website. See the table for prices and links to the product pages.
On this Salus thermostat review page we will mainly concentrate on following best-selling products: Salus RT310RF, RT510RF, RT510TX, RT310i and IT500. The actual range is wider, however we feel that for the purpose of this overview, it's important to limit the amount of information to avoid confusion.
Before purchasing anything online, it's a great idea to check reviews and comparison tables. Hopefully, by the time you read this article, you will have enough information about Salus to enable you to make an informative decision as to which thermostat is best for your central heating system. Checking the 3rd party reviews online we see that Salus generally command positive reviews, which is pretty good for a brand that targets the cheaper end of the market. No major technical or design issues have been reported so far.
Salus RT310RF Overview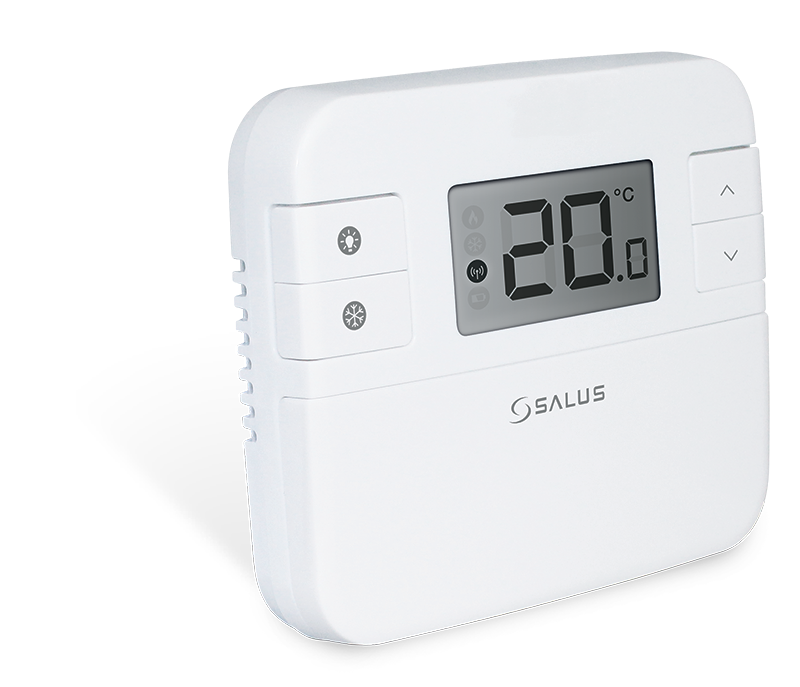 It's an upgrade from the Salus RT300. It's the most basic and simple of their creations. There are no frills, it's just an RF (radio frequency) thermostat with transmitter and receiver. It's main function is to maintain a pre-set temperature. This basic product won't come with any programming functions as it hasn't got a timer built in. It can be used with both volt-free and 230V mains applications. The thermostat receiver is powered by two AA batteries. If you're after a thermostat that is simple to install and simple to operate, and you don't need a timer function, this is the perfect choice.
As far as ease of installation is concerned, the Salus is not too fiddly. Please note, however, that fitting the transmitter involves electricity work so make sure this part is done by someone who is certified. Everything else is pretty straightforward.
Salus RT510RF Review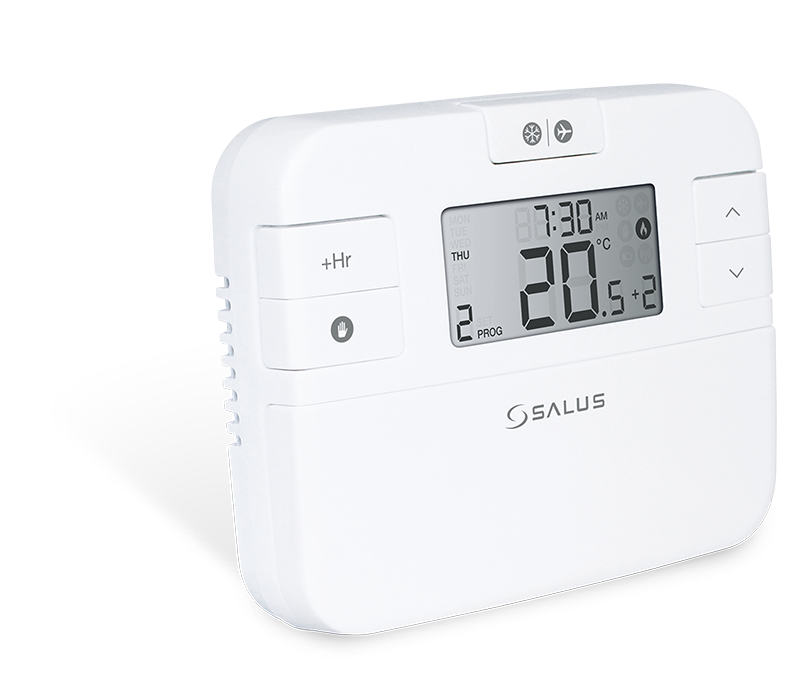 It's an upgrade from the popular Salus RT500. The most popular and versatile of their products. Unlike the RT300, this Salus thermostat comes with a built-in timer clock making it a versatile product that can optimise your room temperature and help save money off heating bills.
The Salus RT510RF is fairly easy to install although you will find that you need to read the user manual to properly understand pairing and programming. If you're a professional or a seasoned DIY expert you may think this is a little awkward especially if you usually don't need to use the manuals for previous boiler installations. The logic in Salus RT510RF is not as obvious as on other thermostat models and probably can't be considered fool-proof.
The temperature step can be changed between 0.5 or 1 degrees Celsius, which is quite a strange setting as you can't really see a reason for the 1 degree Celsius setting. That is likely not going to cut it as you want something a bit more precise.
If you're switching from a more advanced wireless thermostat, this is the thing you're going to miss from your previous thermostat's accuracy and capability. There are thermostats that offer 0.1 Celsius accuracy for temperature settings. On a positive side, Salus thermostat is measuring the delta (temperature difference) of the room which helps you save extra money as it switches on and off before the programmed temperature is achieved. That's a feature you'll struggle to find in much more expensive thermostats.
Salus has the option to move the temperature sensor from one place to another allowing you to find the optimum spot for measurement.It is a must-have feature as in practical application you will find the hard-wired thermostat point not the best place for measurement. For resolving this problem the Salus thermostat is amongh the cheapest and best programmable radiofrequency solutions out on the market.
When getting your head around setting up Salus RT510RF, it can be confusing at first because it only had 5 set points per day. The key to understand here is that it doesn't represent up and down-cycles. There are no down-cycles – you simply have an option to set temperature variations up to 5 times per day. For example, you can tell the thermostat that you need 18 degrees by 7am and then it has to go up to 20 degrees by 10am.
Salus RT510RF Pros and Cons
Pros
Relatively easy installation depending on your requirements
Blue back-lit display which is convenient and readable
It's a very cheap option for the functionality. Just £55 which is a third of what the "smart" thermostats cost
This product comes pre-paired for a smooth plug and play experience
RF test function included
Cons
The stand for the unit is a bit fiddly
Programming is not perfect for all customers because the Always on and Boost buttons are missing. Everything has to rely on programmed time intervals
It is rather bulky for 2018 standards
It's not a smart thermostat. Actually, it's not trying to be. It's just a basic device for carrying out basic functionality.
Salus RT510TX
Generally, it's the same technology as the RT510RF only this is a more flexible and cheaper option if you want to fiddle with transmitters or make the most of Salus' convenient mix and match product policy. The TX version only contains one unit – the receiver. This means that you have to make provisions for a transmitter by either choosing a standalone transmitter from Salus own range or pick from a list of supported products. Other than that, it's exactly as the RF – the functions are the same.
Salus RT310i Smart Thermostat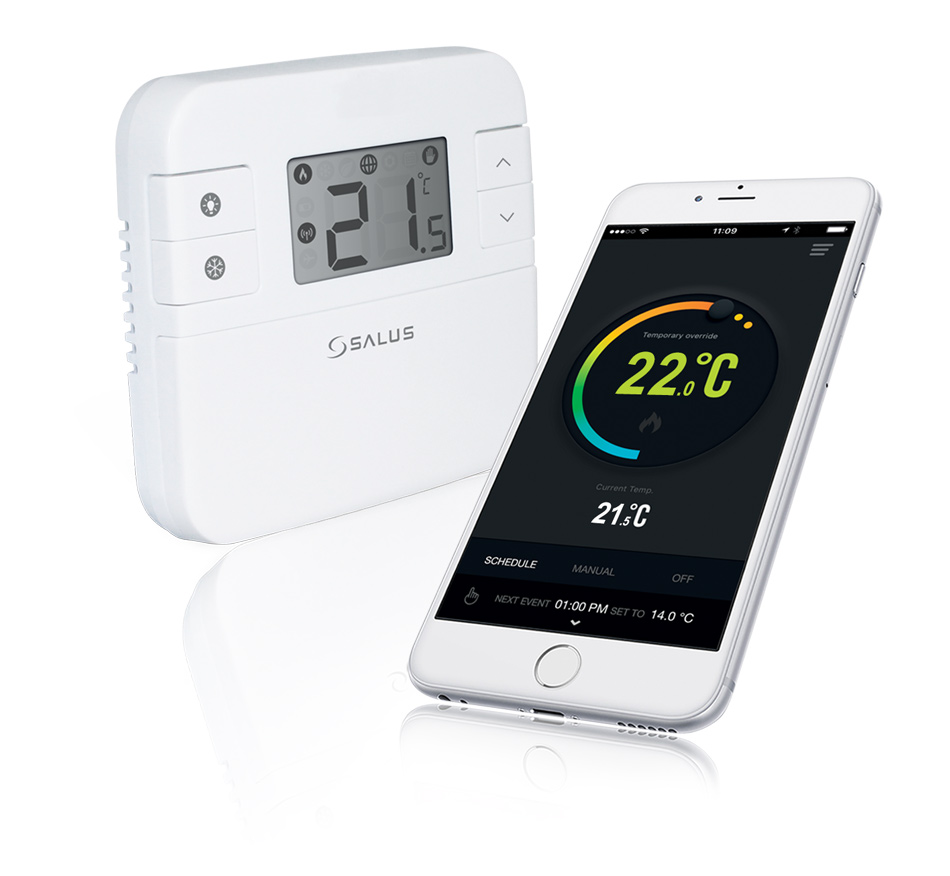 For 2018 when all major smart thermostats are costing hundreds of pounds, having an option that costs only £59.95 (ex VAT) is great for installers or customers who are looking to cut costs. All you need to do is connect the RT310i to a router and you can control your room temperature on a go via a convenient smartphone app. Of course, it's also possible to control this Salus thermostat from a tablet or a desktop PC, whichever takes your fancy.
Salus IT500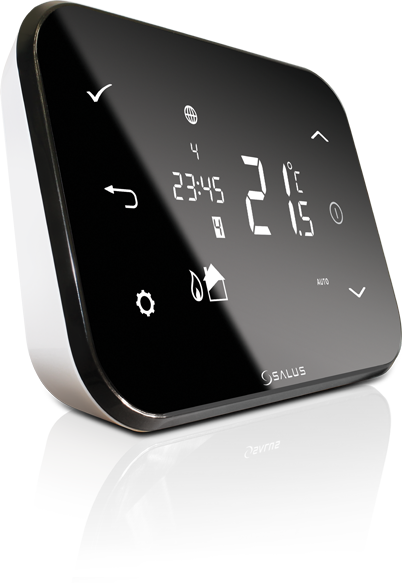 This is another budget option for those who want a smart thermostat but don't want to dish out loads of money on a Nest and at the same time don't want to limit themselves by the basic functions of RT310i. The Salus IT500 costs just £79.50 (ex VAT) and is more than a half less than Nest or similar "upmarket" smart thermostats. It gives you up to six daily heating temperature adjustments and up to 3 daily hot water temperature adjustments. The main selling point of smart thermostats is that it helps you save money on your heating bills, however, when the thermostat itself costs more than £200, it will take you quite a bit of time to recoup this investment. In fact, it may take over a year. From this perspective, Salus IT500 is a great option because you can potentially recoup the cost in just a few months.
It's got a lot of pros and when the cons are concerned, we can only think of one – it doesn't come with any sensors. Potentially, you can have a two-zone home because it can communicate with two separate temperature sensors, however, you will have to purchase these sensors as well as the boiler transmitter unit separately. Having said that, it's the case with the more expensive competing models as well. It's just something to keep in mind when deciding on buying a smart thermostat.
Salus Thermostat FAQ
What is the Difference between Salus RT510RF and Salus RT510TX?
We are actually looking at the same piece of technology. The only difference between Salus RT510RF and Salus RT510TX is the purpose and packaging. The RT510RF is a fully functional unit – a programmable thermostat using radio frequency. It consists of a transmitter and a receiver. The RT510TX on the other hand is mainly aimed at professional boiler installers and only includes the receiver unit. This opens up multiple opportunities for professionals. You can mix and match the RT510TX with a range of Salus' own transmitters or you can pick from a list of 3rd party manufacturers that are also supported.
What is the difference between Salus RT310RF and the RT510RF thermostat?
The RT310RF model is non-programmable while the RT510RF is fully programmable. Essentially, the RT310RF is just a wireless thermostat and will keep the heating constantly on to keep the set temperature unless you have a seperate timer clock built in with your boiler. The RT510RF has as well as being a wireless thermostat has a timer function built in. If your boiler already has a timer function, there is no need to spend extra money and purchase the RT510RF as this may just interfere with the operation of your central heating system.
How to pair a Salus thermostat?
If you need to pair an RT310RF or RT510RF from scratch or as a re-pairing procedure, here are the steps to follow:
Reset your receiver to the Auto setting
Turn off the receiver, wait for a few seconds before turning it back on
Wait for the red light to start flashing
On the transmitter unit, push and hold the test/pair button for 5 seconds. You will need a paper clip or other small metal object
The red light that was flashing on the receiver should now be solid red.
What is the correct wiring procedure on a Salus thermostat?
If you need to wire your receiver unit to the boiler, here's how to do it. There are four terminals – live, neutral, com and NO. The live and neutral are out-going as usual. The COM should be linked to Live while the NO should be linked to the RT terminal of your boiler.
How does hourly temperature override mode work?
The hourly temperature override is meant to adjust the setpoint temperature for a short time span (up to 9 hours) in case you need to override the usual daily programme. Once the override time is over, the thermostat will return to it's normal programme.
Does Salus come with a wall-mounted cradle or is it a free standing unit?
It can be wall-mounted if you wish, however, both 310 and 510 come with a neat desk stand meaning you can put it wherever is convenienc as long as it is within 30-metre range from the transmitter.
Do Salus Thermostats offer Frost Protection?
That's a good question. There's no point investing in a thermostat if it's not going to look after your heating system while you're away from home. All Salus models have a frost protection button on the front of the receiver. You have to press it if you plan on leaving the house for prolonged periods. Not only it keeps the boiler, radiators and pipework in good order, it also makes sure the inside temperature of the house doesn't drop below reasonable temperature. These gadgets have a temperature control range of between 5 and 35 degrees Celsius. Indeed, 5 degrees is enough to keep the pipes from freezing and bursting. Maintaining such low temperature isn't going to cost you a lot. What it will do, though, is make sure your heating system is protected.
Can I control my neighbour's temperature with my Salus Thermostat?
The short answer is Yes. These thermostats work in the 868 MHz frequency. Their operating radius is 30 metres. So, if you and your neighbour have the same model of Salus and your transmitter is less than 30 metres from his receiver, yes, you will mess with his heating system (and his head too). The obvious solution is to work with your neightbour and position the receivers so that they don't interfere with one another, however, if that's not possible, you can use Salus address codes to reprogram the frequency. You will need to speak to a pro (scroll down for relevant phone numbers).
I have a technical question that is not covered by this Salus FAQ
If you need additional help, you can try to download user manuals here, call Salus customer service on 01226 323961 or call our dedicated sales support on 0330 113 7116
Salus Thermostat Videos
Finally, if you want to gain some in-depth knowledge on how Salus thermostats work, check out these videos. The first one is the official installation guide from Salus showing all the features and the best ways to set it up.
The 2nd video is created by a customer who installed a Salus IT500 with his Ferroli Modena 32c Combi Boiler. Yes, it's a very unusual choice, however, the process is very similar with other more popular combi boilers.
This should probably give you a good idea of what Salus is and how it can help you manage your central heating system. If you think we've missed something, please add comments and we will fill the gaps with additional information.