Why It's Important To Buy WRAS Approved Copper Fittings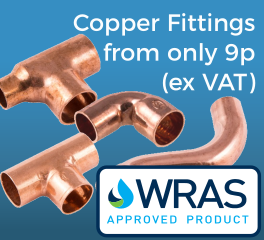 Why It's Important To Buy WRAS Approved Copper Fittings
When you are carrying out some plumbing work and need to buy copper fittings or any other parts or materials, one thing you absolutely must consider is whether they are WRAS approved.
WRAS approved copper fittings are the industry standard in the UK, and in many cases a failure to use compliant copper fittings is actually against the law.
If you are unfamiliar with what WRAS is and what it means for you when carrying out plumbing work, we have you covered.
What Is WRAS Approval?
WRAS refers to the Water Regulations Advisory Scheme, a standard set out by laws and regulations surrounding the use of the public water supply.
Basically, any appliance, part or material that comes in to contact with water from the public water mains supply is subject to WRAS approval.
The regulations govern more than just copper fittings, they include appliances like boilers and showers, which are subject to WRAS Product Approval, as well as materials like washers and O-rings that fall under Material Approval.
To receive WRAS approval, the product or material must undergo extensive testing.
How Is WRAS Testing Carried Out?
WRAS testing is performed by independent testing facilities primarily at the behest of manufacturers and retailers who want approval for their products.
WRAS approved copper fittings have undergone testing to ensure they meet regulatory standards for concerns such as corrosion protection, protection against outside forces (vibration, impact, etc.) and, where applicable, mechanical integrity.
The approval lasts for five years, at which point it should be tested again if the manufacturer or retailer wants to maintain approval for the product.
The Importance Of Using WRAS Compliant Copper Fittings
Needless to say, it is extremely important for anyone performing any plumbing work to be aware of the safety and integrity of the parts and materials used for that work.
That is exactly the reason why WRAS approval exists – it gives tradespeople and homeowners alike peace of mind and guarantees the suitability of products like copper fittings.
For work on existing homes where there is no need to hook up a new cold water supply, WRAS accreditation is not required but is still recommended.
However, for all public buildings, new builds and extensions that require a new connection to the mains, WRAS approval is required. In these cases, failure to ensure WRAS approval on copper fittings will cause the water supplier to flat out refuse to run water through it.
This isn't good for anybody, costing time and money.
In any case, using exclusively WRAS approved copper fittings is the recommended way to go as it guarantees safety and prevents any problems with water regulations down the line.
This accreditation does not guarantee quality, however, so you should ensure the quality of the brand as well as ensuring that the copper fittings are WRAS approved.
At the end of the day, UK water regulations are not going away, and it really pays to know what they say. By only purchasing WRAS approved copper fittings, you ensure that the work you do for your customers is always in line with the relevant laws and regulations.